What My Clients Say About Me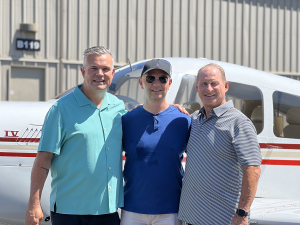 "Steve went above and beyond to facilitate my first acquisition of my aircraft here in the U.S. He provides very detailed information about the airframe, engine status, as well as the cockpit/panel and avionics installed. His photo uploads are high definition, and not only he highlights the good things about the aircraft, but also the defects and potential issues. So, he is able to provide a honest and thorough opinion about what you are going to see when you look at the airplane, and you won't have any surprises. The acquisition process is also smooth and fast, I would have been able to close in less than 2 weeks since my initial look at the aircraft, if I wasn't delayed by my work activities. His comms are always prompt and he is able to provide you with anything needed in a very timely fashion. The aircraft he puts up for sale are very high quality. Great experience overall, I was really glad I found Steve and his website Partner91."
- Nicola Pecile, Las Cruces, New Mexico
"Thanks Steve, good working with you. A nice, clear, and easy execution. The pictures were great, very helpful in getting a very good understanding of the aircraft. I also appreciate the quick professional and hassle free execution afterwards. I'd happily buy another airplane with you, but how many airplanes can one own? Never enough. Still, the hangar is full for now…"
- Gaël de Boissard, New York, NY
"Aggressively marketed the Husky thru several mediums. Directed owner and buyer thru the sales process using escrow account. Kept an eye on the ball at all times. Assisted in the pre-purchase inspection. Kept owner appraised of what was occurring. Good guy to work with!"
- R.P., Carefree, Arizona
"Steve, thanks for a great job brokering the sale of this airplane. I am very impressed with your depth of knowledge, your connections, and your immediate responses to all questions that were asked during the sale.
I will be glad to recommend you to anyone who I find in need of a broker to sell their airplane."
-David Dobson, Tucson, Arizona
"Steve makes the process streamlined and efficient. No guess work about if the plane is in good condition or about transferring large sums of money. He explains everything, answers all questions, and is with you through the entire process."
- M.C., San Diego, California
"I can highly recommend Steve as an aircraft broker - thru his multi listings and advice, he was able to get my beautiful aircraft sold for me."
- Ronald Smith, Goodyear, Arizona
"Steve Thompson of PARTner 91 representing the sale of Comanche N7261P was an absolute pleasure to work with balancing his responsibilities to both the Seller and myself the Buyer. He was very very responsive to my phone calls and his patience with all my questions and concerns were refreshing! He followed up on all the details involved with flying down from California to preview the plane to making arrangements for the Ferry Pilot, Title Company, working with the seller to fix the small squawks I noticed, confirming the final closure of the sale and following up with the delivery. Very professional, thorough, friendly and the first person I will call when I sell this plane! It was my 8th airplane in 35 years of flying and no other sale went as well as this!"
- Jim Holleman, Santa Rosa, California
"My experience with Steve and PARTner 91 was very enjoyable. Steve manages the complete sale process from A to Z. With extensive research, he manages the entire marketing process, and assists the owner with a fair price point to insure serious interest and eventual sale of your aircraft. Steve takes the time to take all the pictures of your aircraft and designs a great write-up with digital logs and a professional site promoting your aircraft. He also manages all communication with potential buyers, while staying in contact with the owner/seller.
I highly recommend Steve Thompson to assist you selling your aircraft."
- Ed Fields, Phoenix, Arizona
"Steve Thompson with PARTner 91 helped ensure a smooth purchase transaction of his client's aircraft and assisted in keeping the buying/selling process moving forward. He also recommended a finance company that helped save over 2% in interest compared to the company I was planning on using. I will be using Steve to sell my Cherokee within the next few months. Thanks for the help Steve."
- Richard Eyrich, Cave Creek, Arizona
"Exceptional Aircraft Broker!
Steve went above and beyond to help make me comfortable with the purchase of my aircraft. He provided service that was above and beyond. But this is no act! Once you meet Steve, you'll realize this is how he does business every day. He's also a genuine pilot and well connected backcountry aviator. I'd use him again not only to purchase an aircraft - but also to sell one."
-M.C., Casper, Wyoming
"Steve is the greatest. He focused on keeping the seller and buyer informed and the sale progressing to successful completion. His use of computer software and various other agents to complete all the necessary FAA registrations, etc. made the sale of my plane very easy."
- Dr. Robert Dietrich, Wikieup, Arizona
"This was an effortless sale, Steve took care of everything, I highly recommend PARTner 91 for your aircraft purchase/selling needs."
- Stephen Hill, Skydive Arizona, Eloy, Arizona
"The process of selling an aircraft can be challenging. Steve's experience and guidance through the process eased my stress and emotions over the decision to sell and the actual sale. Ultimately he had a list of buyers lined up and competing to purchase my 182. This resulted in a great offer that Steve saw through to closing. If I ever buy or sell another airplane, Steve will be my go to guy!"
- C.L., Florence, Arizona
"I bought an airplane through Steve last August [2022]. I called one afternoon and told him I was interested in a plane that he had listed, but I lived in the L.A. area. Steve came to the hangar where the plane was at 10:30 PM on a Saturday night to show me the plane. I made them an offer and turned around and started driving back to L.A. and Steve called me back and closed the deal within 10 minutes. I came back the next week and picked the plane up. Steve helped me find a pilot to sign me off and fly with me back to L.A.
My experience was first class. If I was going to buy or sell another airplane Steve would be the guy to handle it."
- Dale N., Brea, California
"Simply amazing!  Steve from PARTner 91 has exceeded all my expectations.  As a new pilot attempting to purchase an aircraft for the first time, I felt clueless.  It always dawned on me how people use real estate agents to buy homes, but don't use an agent to find an aircraft...  That's when I learned the term "aircraft acquisition specialist" and took an interest in PARTner 91.  Flight school and aviation friends are great sources, but what Steve taught me was well beyond anything that flight school could teach me.  Choosing Steve from PARTner 91 isn't just about helping with a business transaction, it's about learning all the details and the "why do we care" about each component of the aircraft.  I felt like I was on the market forever, but I was truly amazed when we walked away from the first deal after a pre-buy inspection showed significant airworthiness problems of which the owner wasn't even aware of.  That's when I realized the importance of Steve at Partner 91.  I will cherish all the learning moments, the "aha!" moments that made an impact on my knowledge about aircraft.  His constant encouragement, willingness to dive into aircraft histories even for the 300th time, and true honesty made me feel safe about selecting the right airplane.  I wish more people doing business were like Steve; personable and actually caring about fairness and doing the right thing.  And obviously, we reached the goal; I am a first-time happy and safe aircraft owner!"
- Arnaldo V., Merced, California
"Steve kept to his word, kept me informed and got the deal done quickly. He is knowledeable and personable. The entire process was seamless and efficient. Thank you Steve!"
- Rusty R., Cave Creek, Arizona
"Steve was very honest and professional. Everything he said he would do, he did. He made the sale of my aircraft hassle-free for me. I cannot thank him enough."
- Noel C., Prescott, Arizona