2018 Cubcrafters
Carbon Cub EX-2
N52WB
Nearly New, No Damage History
Ready for the Backcountry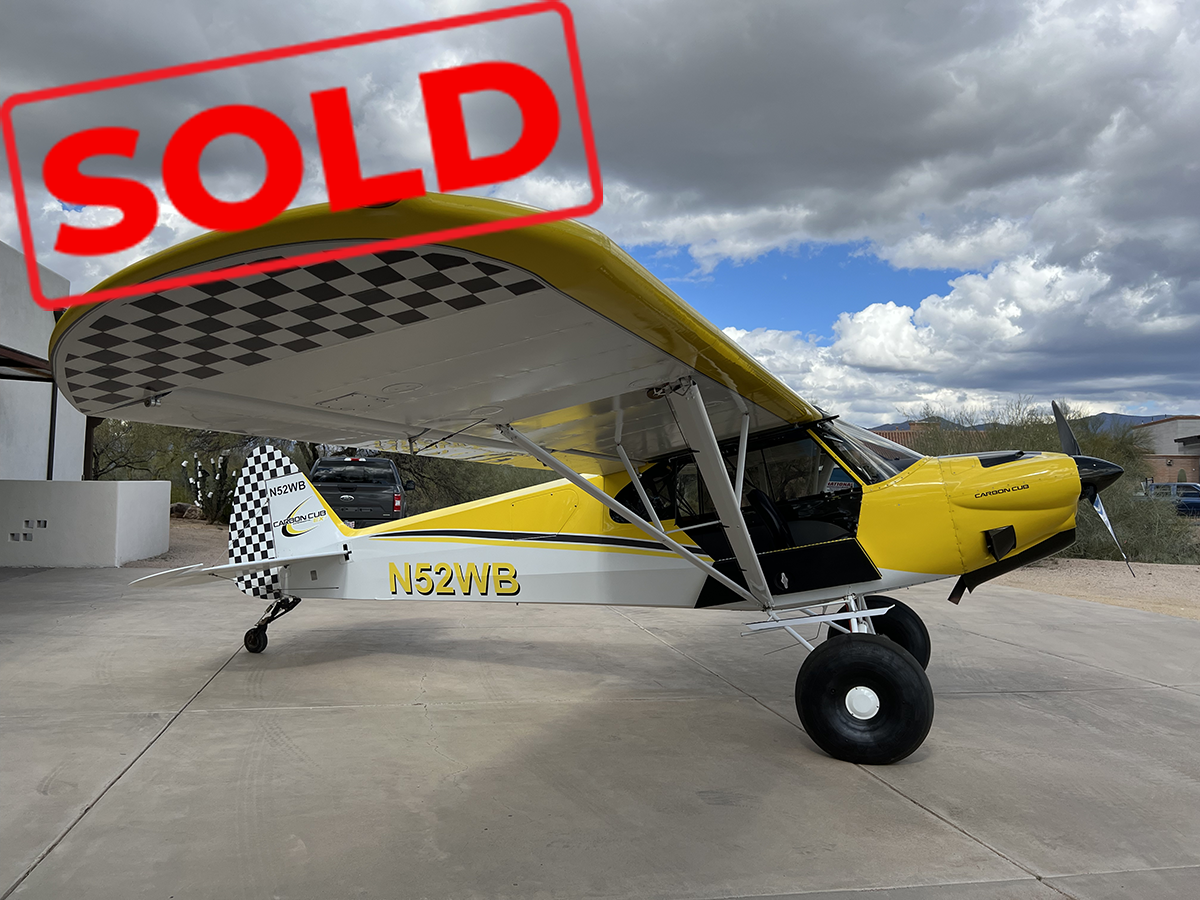 Here's an opportunity to own one of the nicest Carbon Cub EX-2s around. It's nearly new, low time, loaded with tasteful upgrades, and includes a full Garmin suite of avionics and an autopilot. This mild-mannered bird is ready for serious backcountry flying with its Alaskan Bushwheel Airstreak 29" fat tires. She is clean and will not disappoint!
I can vouch for the performance and beauty of this EX-2, as I've had the privilege of flying alongside it on many exploration flights in the Arizona desert. This airplane consistently outperforms my PA-18 Super Cub in both its takeoff and landing performance, and also in cruise (the Seller always has to throttle back so that I can keep up with him).
The Avionics and Equipment list (below) is extensive. Please review it carefully so you'll see that the highly experienced builder configured N52WB very well. The current owner has maintained this Carbon Cub with no expenses spared. And, he's utilized Blackstone oil analysis, providing objective information on engine health.
Performance Specifications
| | | | |
| --- | --- | --- | --- |
| Horsepower: | 180 HP | Stall Speed: | 26 MPH |
| Best Cruise Speed: | 101 MPH | Best Rate of Climb: | 2,050 FPM |
| Takeoff Distance: | 60 FT | Landing Distance: | 245 FT |
| Fuel Consumption: | 5-6 GPH | Vne: | 141 MPH |
N52WB Numbers
| | |
| --- | --- |
| Factory Serial Number: | CCK-1865-1027 |
| Airframe Total Time*: | 291 hrs |
| Engine Total Time* (new engine): | 250 hrs |
| Engine TBO (Titan 340CC): | 2400 hrs |
| Prop Total Hrs (new prop): | 250 hrs |
| Gross Weight: | 1865 lbs |
| Empty Weight: | 1005 lbs |
| Useful Load: | 860 lbs |
| CG: | 73.39 in |
| Annual Condition Insp Due: | Dec 2023 |
| Transponder Check 91.413 Due: | Dec 2023 |
* Note: Since the Garmin G3X tracks "total hours" whenever the avionics are turned on, and "engine hours" only when the engine is running, there is a difference between those numbers. This is similar to how a Hobbs meter may differ from tach time.
Highlights
Aircraft based at SkyRanch Carefree Airport (18AZ), approx 20 nm NNE of Phoenix, Arizona
Low time Titan (Continental) 340CC 180 hp engine (installed new, not overhaul)
Quality build by experienced builder
Extensive list of upgrades - See Avionics and Equipment section
Executive Panel - Garmin glass
40 gallon fuel capacity (extended tanks)
Fantastic setup for backcountry flying
Complete logs since new
All logs digitized and available upon request
Blackstone oil analysis at oil changes
No damage history
No hail damage
No corrosion
All ADs c/w
Avionics and Equipment
Garmin G3X Touch
Garmin GNC307 Autopilot
Garmin GTX345R Transponder w/ ADS-B IN/OUT
Garmin SL40 COM Radio
Upgraded 80x50 Catto Nickel Leading Edge prop
Kannad 401 ELT
G-Series flaps and ailerons
AOSS Suspension System
3x3 Extended Landing Gear
Stainless steel brake lines
29" ABW Airstreak bush tires
3200-type steerable tailwheel
T3 HD Tailwheel Shock
Professionally fabric covered - lightweight Stits Polyfiber fabric
Atlee Dodge Step (right side)
Wing leading edge extra reinforcements
Extended fuel tanks (40 gal cap)
Inertial reel 4-pt seatbelts - both seats
Super Cub airfoil USA35(B)
Vortex Generators (VGs) for sub-26 stall spd
Cockpit-adjustable oil cooler ctrl
Boot Cowl Screws (instead of rivets) for easy removal
Ground-adjustable Cowl Flaps
Lightweight 40A alternator
Dual electronic ignition w/backup batt
Magnesium accessory case
Upgraded cabin heat system
Upgraded cowl and air induction
Fishing Rod Tubes extending into back wall
12v power outlet
Exterior - 9/10 Always hangared during its short life, the paint is in very good condition. The paint quality and scheme are professional-level. There is one minor scratch on the cowling and on the right wing tip (see images below). The Plexiglas looks nearly new, as it should, and there is no evidence of oil leaks under the belly or inside the engine compartment. The exterior is gorgeous. This airplane commands ramp presence.
Interior - 9/10 The interior has that typical Cubcrafters quality that's second to none, and shows very little use. Upholstery and underlying support foam look and feel nearly new. Please review the images below, as they show every detail.
Overall - A nice EX-2 doesn't show up on the market often, and this is one of the best. Whether your flying is about exploring the countryside, or conquering the most challenging backcountry strips, this Carbon Cub is up to the task. Why wait 18+ months for the kit when this one is available now at nearly the same cost?
Logbooks available digitally upon request.
This aircraft has been sold.
Specifications and aircraft condition subject to verification and are not guaranteed.
Aircraft is subject to prior sale or removal.