Low time, expertly built, Arizona-based, high performance RV with a glass panel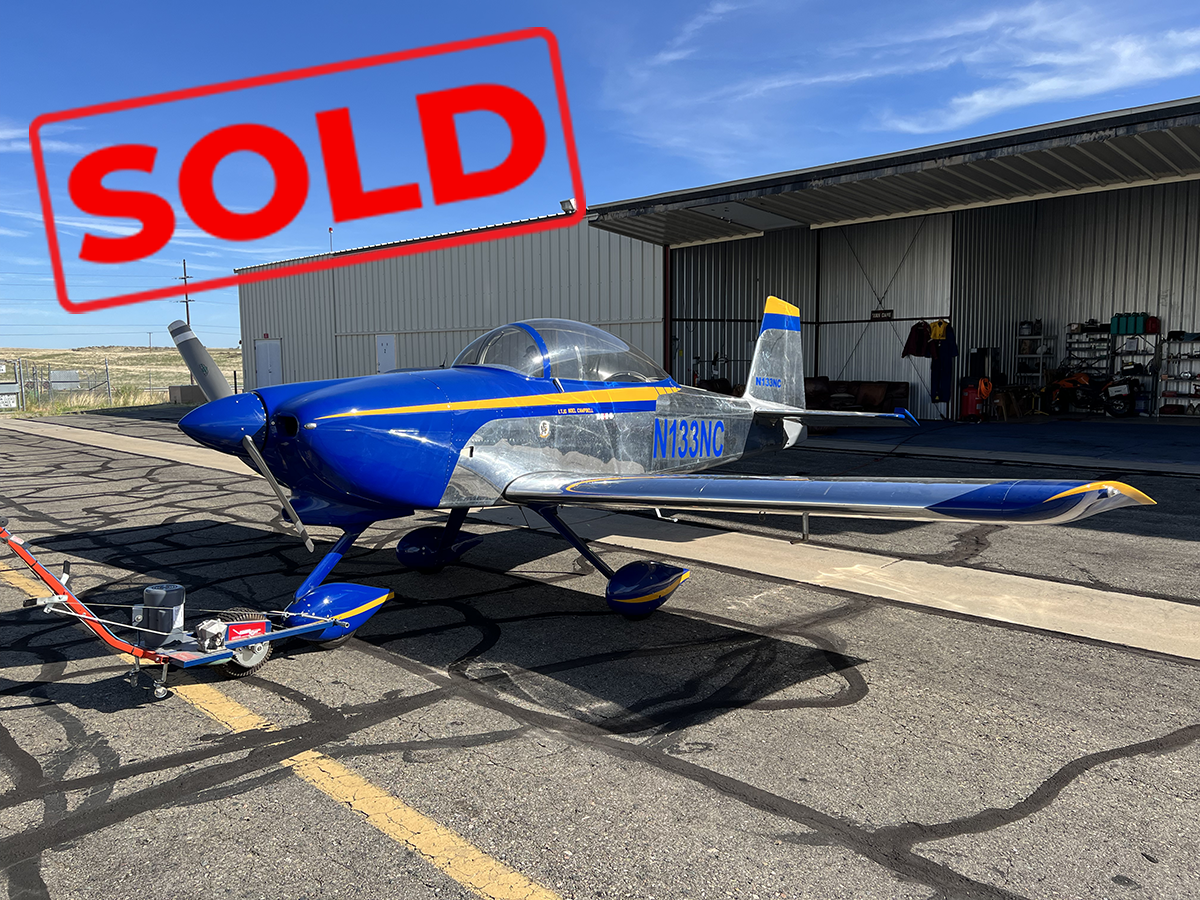 If you're looking for a nice, dry climate, low time, tricycle gear Vans RV-8A, you've found it!
This one-owner RV-8A was built in Arizona and has been hangared throughout its life here in dry Arizona. It has the power of the venerable Lycoming O-360, and the simplicity of a tricycle gear and a fixed pitch prop. Its Dynon Skyview full glass panel makes flying this bird a true pleasure.
The owner-builder is hanging up his wings, so it's time for this beautiful RV-8A to find its new owner.
Important Numbers*
| | |
| --- | --- |
| Airframe Total Time: | 716 |
| Engine Total Time: | 600 |
| Prop: | 600 |
| Gross Weight: | 1750 |
| Empty Weight: | 1029 |
| Useful Load: | 721 |
| Empty Weight CG: | 76.7 in |
| Cond Insp Due: | Dec 2022 |
*Subject to verification
Highlights
Aircraft located in Prescott, Arizona
Modern glass panel, clean layout
One owner/builder w/ builder assist
180 hp Lycoming O-360-A1A
Engine and prop were ZERO time when installed (not an overhaul)
No damage history
Always hangared
Low time airframe
Complete logs
All logs are digitized and available online upon request
Lived all of its life in Prescott, Arizona
All ADs/SBs complied with
Avionics and Equipment
Dynon Skyview Glass Panel
Dynon GPS
Dynon ADS-B IN/OUT Transponder
Icom IC-A210 COM radio
Flightcom 403 Intercom System
Remote ELT panel
Avionics Master
Sensenich Metal Prop
Skytech Starter
Engine block heater
SwitcheOn Remote Control Unit included (allows engine block heater to be turned on via telephone) - see image below
Exterior - Paint scheme reflects Naval heritage, professionally-applied paint has good depth and is in good condition. Aluminum is in great condition but more recently has not been kept polished. It would take just some polishing to get this airplane to look absolutely fantastic!
Please look carefully at the images of the engine compartment (below). The Lycoming O-360-A1A and all engine accessories/cables/wires are super clean and well organized. Immediately aft of the engine is a generous storage compartment.
During my initial inspection, I observed several minor cosmetic issues: some scratching on the nose wheel fairing due to power tug connectors; a very minor ding on the trailing edge of the left wing (see image below, it's difficult to spot); a very minor crack on starbird side of canopy (stop-drilled); and a patch-repair done to a crack on the port side of the plexiglas canopy (see images below). I'm being picky on this, so that known issues are disclosed early to the discriminate buyer. Overall, nice exterior!
Interior - Professionally designed seats and upholstery are in good condition. The panel, switches and controls are nicely done and laid out well. The Dynon Skyview is the focal point and the highlight of this nice VFR panel.
As pointed out above, there is a plexiglas patch on the port side of the canopy, at about the pilot's shoulder area, which is approximately 10" long.
Overall - This is an excellent find for anyone looking for an experimental homebuilt RV-8A. Do not let the lack of aluminum luster discourage you - it would only take one serious polishing job to make this airplane look nearly new.
Complete logs available upon request.
Specifications and aircraft subject to verification and are not guaranteed.
Aircraft is subject to prior sale or removal.