1961 Piper PA-24-180
Comanche
N7261P
Newly Overhauled Engine, New Prop
New Paint and Interior
Economical Cross Country or Complex Time Builder!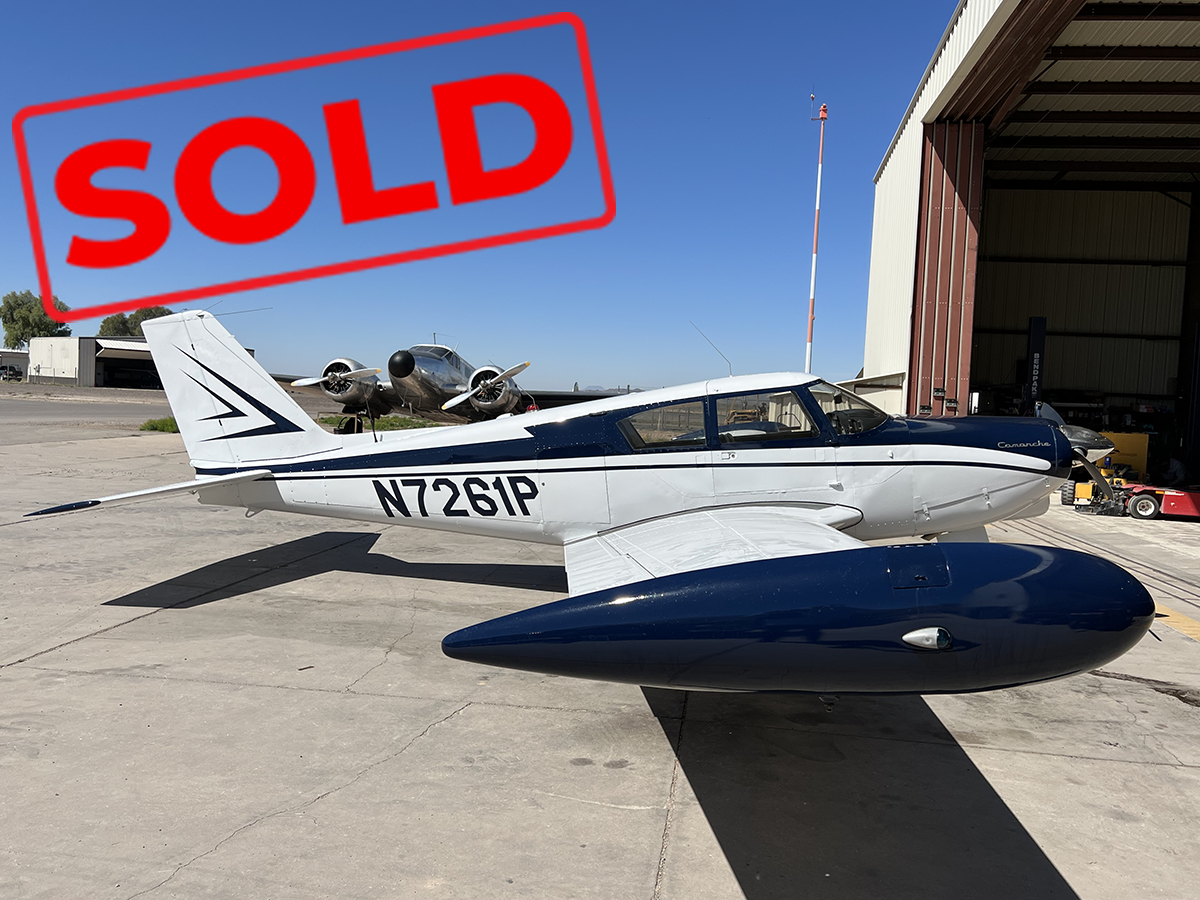 Our friends at Skydive Arizona acquired this very low time Comanche from a local at their home airport, Eloy Municipal (E60). N7261P had sat in its hangar for many years, untouched.  So, it became a team restoration project! Their highly experienced shop went through this Comanche from front to back, overhauling the engine, installing a brand new Hartzell propeller, replacing engine accessories, and updating the look with new paint and a gorgeous new interior.
It is unfortunate that the long time previous owners, who had let N7261P sit dormant for decades, were unable to locate the aircraft's logbooks. However, Skydive Arizona acquired a certified document of FAA records on the aircraft, and also an affidavit certifying airframe total time. All of these documents, along with current logbooks, are available digitally upon request for your review.
This beautiful Comanche 180 presents an economical way to build complex hours and do a lot of cross-country travel on only 10 gallons per hour!
Please review the dozens of detailed images below. You'll see that this Comanche offers great value to a pilot looking for a complex aircraft on a budget.
Performance Specifications
| | | | |
| --- | --- | --- | --- |
| Horsepower: | 180 HP | Stall Speed: | 52 KIAS |
| Best Cruise Speed: | 139 KIAS | Rate of Climb: | 910 FPM |
| Takeoff Distance: | 1,370 FT | Landing Distance: | 460 FT |
| Fuel Burn @ 75%: | 10.0 GPH | Ceiling: | 21,000 FT |
| Fuel - Main Tanks (useable): | 60 Gal | Best Range: | ~800 NM  |
| Aux Fuel (Tip Tanks): | 30 Gal | | |
Important Numbers
| | |
| --- | --- |
| Factory Serial Number: | 24-2437 |
| Flight Rules: | VFR |
| Airframe Total Time: | 1863 hrs |
| Engine Time Since Overhaul (June 2021): | 10 hrs |
| Engine TBO (Lycoming O-360-A1D): | 2000 hrs |
| Prop Hrs Since New (June 2022): | 10 hrs |
| Magneto Hrs Since Overhaul: | 10 hrs |
| Gross Weight: | 2500 lbs |
| Empty Weight: | 1606 lbs |
| Useful Load: | 894 lbs |
| Annual Inspection Due: | Sep 2023 |
| Transponder Check 91.413 Due: | Sep 2024 |
Highlights
Aircraft based and hangared at Eloy Municipal Airport (E60), 70 mi south of Phoenix, Arizona
Lycoming O-360-A1D overhauled June 2021
New Hartzell prop installed June 2022
New paint and new interior
Missing logs since new; new logbooks started as aircraft underwent restoration
No hail damage
No known corrosion
All ADs complied with
Avionics and Equipment
Apollo GX60 GPS
Garmin SL40 COMM
Garmin SL70 COMM
Bendix King KMA-24H Audio Panel
Aerospace Logic Digital Fuel Indicator (new)
CIES Fuel Quantity Sending Units (new)
New windshield and all new windows
Skytec Starter (new)
uAvionics SkyBeacon - ADS-B OUT (new)
Artex 345 - 406 MHz ELT (new)
Brittain Mark 3 Wing Tip Tanks
New oil cooler
Pitot Heat
Whelen Landing Lights
Shoulder Harnesses (front and rear)
New Condor tires (Sept 2022)
New brakes (Sept 2022)
New landing gear bungee cords
New tach instrument (hours set to AFTT)
Aeronautical Design Replacement Comanche Stabilator Horn - eliminates recurring AD (new)
Aviation Performance Products Stainless Steel Dual Exhaust (new)
Hartzell Top Prop (new)
Hartzell Plane-Power ALT-FLX Alternator (new)
Bogart Low Loss Copper Cables (new)
Brackett Air Filter (new)
Exterior - 8/10 Always hangared, and with new paint, overall the exterior is in nice condition. Paint has excellent shine and depth. There are a couple of instances of chipped paint, but that's if you get up close and look carefully. There is one minor hangar rash issue on the horizontal stabilizer, see detailed pictures below. Tires are new and in excellent condition. The Plexiglas windshield and windows are new and brilliant. When you walk up to this airplane, it looks good!
Panel - 6.5/10 This VFR panel is very clean, but sparse and not updated. Steam gauges are well organized and functional. There is no autopilot, however it does have a recently installed digital fuel indicator. With little modification, the panel could easily be modernized with electronics such as GI-275s or G5s.
Interior - 9/10 The interior is new. Carpet looks very nice and shows no wear (but could use some minor cleaning after it got a little dirty during mechanical work). Upholstery is beautiful, front and rear. Headliner is clean and nearly perfect. The interior smells fresh and looks great.
Overall - This Comanche 180 presents itself well. It is not perfect, but for someone who appreciates fresh P&I, and wants the dependability and longevity of a newly overhauled engine and new prop on an airframe that's barely broken in, this is a fantastic aircraft.
Logbooks available digitally upon request.
This aircraft has been SOLD!
Detailed Images
Click any image to see a gallery of larger images.
Specifications and aircraft condition subject to verification and are not guaranteed.
Aircraft is subject to prior sale or removal.