Clean Cessna 182
Recently Overhauled Engine and Prop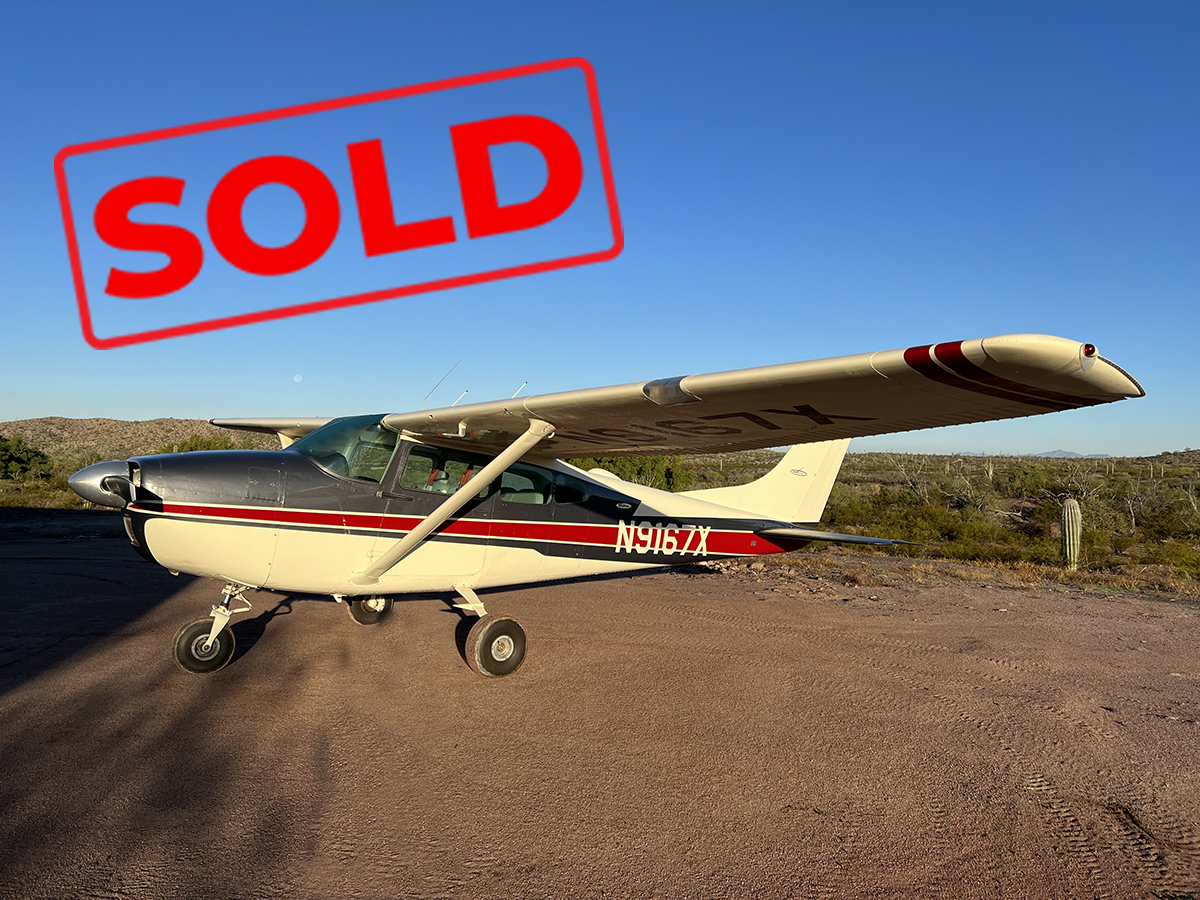 N9167X is one of the cleanest, lowest time, ready-to-fly, classic Cessna 182s in the country. The current owner found this aircraft several years ago a few miles north, in Prescott, Arizona, where it was hangared in the dry high desert climate. It was well preserved, but not flown nearly enough! So, with an open checkbook, the owner made many updates to the aircraft and now flies it regularly. The owner is looking to transition to another aircraft, so it's time to find a new home for this always hangared, beautiful 182 Skylane.
This 182D has a recent Western Skyways Gold Seal engine overhaul (Aug 2021), and a recently overhauled prop by Santa Monica Propeller (Nov 2020). The recently redone interior has plush seats, highlighted by faux ostrich skin inserts, in nearly new condition. The new interior panels look great, headliner is in nice condition, and carpet looks almost new. N9167X has a number of other tasteful upgrades such as Door Stewards, an Airwolf air/oil separator, and Rosen sun visors.
Whether you're looking to go long distances with family, or poke around in the backcountry with its upgraded heavy duty nose wheel fork and larger tires, N9167X is ready to go.
Important Numbers
| | |
| --- | --- |
| Factory Serial Number: | 18253567 |
| Airframe Total Time: | 2250 hrs |
| Engine SMOH: | 90 hrs |
| Engine TBO: | 1500 hrs |
| Overhaul by Western Skyways: | Aug 2021 |
| Prop SMOH (overhauled 12/19): | 125 hrs |
| Gross Weight: | 2650 lbs |
| Empty Weight: | 1695.7 lbs |
| Useful Load: | 954.3 lbs |
| CG: | 35.17 in |
| Annual Due: | Sep 2023 |
| Transponder Check 91.413 Due: | Oct 2024 |
Highlights
Aircraft based at Coolidge Muni (P08), approx 40 mi SE of Phoenix, Arizona
230 hp Continental O-470-L
Aug 2021 engine overhaul - Western Skyways Gold Seal - including a brand new Phase 2 engine case
Dec 2019 prop overhaul - Santa Monica Propeller
Paint is in nice condition - 1993 repaint w/ original factory paint scheme
Interior is in nice condition - tastefully redone seats, carpet and panels
Sept 2022 Annual - compressions 76/75/77/76/77/78
Complete logs since new
All logs digitized and available upon request
No damage history
No known corrosion
All ADs c/w
Avionics and Equipment
Dual Icom IC-A200 COM radios
Narco NAV-122 VOR/LOC/Glideslope Indicator w/ Rcvr (VFR only)
Stratus Appareo ESG Transponder w/ ADS-B OUT
Stratus 3 ADS-B IN hard-wired and installed with ext antenna
Stratus USB Power Outlet in panel
WAT (Whelen) Anti-Collision Strobe
Airwolf Ail/Oil Separator
Sky-Tec Flyweight Starter
Selkirk Fiberglass Panel Set (interior panels)
Door Stewards (both doors)
Manual "Johnson Bar" style flaps
Heavy duty Pacific Oil Cooler
Rudder trim
Upgraded heavy-duty nose wheel fork "310-style"
Concorde RG35AXC battery (May 2022)
New tires (Jan 2020)
55 Gallon Fuel Capacity
New fuel cells (Dec 2021)
Exterior - Since the aircraft is always hangared, the fairly recent paint, in the original factory paint scheme, has retained its shine and depth. The metallic flake in the paint looks great. There are some minor chips around the cowling edge, etc., but overall the paint really looks good for its age. Upon initial inspection, I did not see any dents, dings, or damage to any skins. The horizontal stabilizer has rubber boots (abrasion protection) which are in fair condition - see images below. The Plexiglas windows are in good condition (note, in the pictures below, the morning dew that accumulated immediately after we pulled the 182 out of the hangar makes the glass look hazy in some pictures, but it is not hazy).
Interior - The interior is beautiful. Everything is clean and in nice condition. The light gray seats with faux ostrich skin inserts are very clean and comfortable (see images below). The headliner is clean and in good order, and the recent carpet and panels are in very nice condition. The rear storage has the Selkirk extended baggage area which provides additional aft storage. The VFR panel is dated but clean and functional.
Overall - N9167X is a great find.There aren't many 182s on the market which are this clean, with a nearly new engine and overhauled prop, that have been flown regularly in the recent past.
Logbooks available digitally upon request.
This aircraft has been sold.
Detailed Images
Click any image to see a gallery of larger images.
Specifications and aircraft condition subject to verification and are not guaranteed.
Aircraft is subject to prior sale or removal.